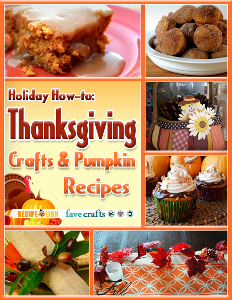 Northbrook, IL — From the moment the first Thanksgiving dinner guest enters the home, it's important to set the mood with comfort and care.  There's no better way to share thanks than with food and elegant decor. Both should showcase the rich and warm colors of autumn and the general mood of Thanksgiving.
Thanksgiving is one of the most universally celebrated holidays in America. In a 2004, an Ohio University Scripps Survey noted that only 13% of survey respondents said they did not plan to have a special gathering for a Thanksgiving meal. Additionally, 86% of responded that they "look forward to Thanksgiving." Noting the importance of Thanksgiving, the editors of RecipeLion and FaveCrafts have put together a free holiday eBook, Holiday How-To: Thanksgiving Crafts and Pumpkin Recipes, which brings the splendor of the season as never before. This holiday eBook also has a number of Thanksgiving crafts to bring the comforting feeling of the harvest season to the home and to the dinner table.
This free eBook is divided into four section: one features delicious dessert recipes and the other three feature a variety of Christmas crafts. In the first section, readers will find delicious dessert ideas including Nutty Pumpkin Pie Granola (p. 26) and Maple Glazed Pumpkin Cookies (p. 18). Thanksgiving dinner guests will surely appreciate the traditional flavors and inspired ingredients. Craft projects range from bright and shiny like the Glitter Thanksgiving Napkins (p. 48) to decidedly more refined projects like Harvest Door Decor (p. 44). All of the projects and recipes from Holiday How-To: Thanksgiving Crafts and Pumpkin Recipes will help create a fantastic Thanksgiving feast that will leave you with lasting memories.
Download the Holiday How-To: Thanksgiving Crafts and Pumpkin Recipes eBook for FREE at http://www.favecrafts.com/Thanksgiving/Holiday-How-To-Thanksgiving-Crafts-and-Pumpkin-Recipes-eBook. Website visitors can also find the eBook under the "Thanksgiving" category on the FaveCrafts homepage.
Contact:
Julia Litz, Editor
FaveCrafts.com
jlitz@primecp.com
About FaveCrafts.com:
FaveCrafts.com is an exciting resource for all things craft – from expert tips to project ideas for every style and skill level. We also publish Quick & Crafty, a free e-mail newsletter, publish crafting eBooks, and create crafting related product promotions, contests and giveaways.
About Prime Publishing LLC:
Prime Publishing LLC was established in 1995 as a traditional niche book publishing company. Today, they are an Internet Media Company that operates web site communities and e-mail newsletters in niche areas such as crafting and cooking. A full list of web properties, free newsletters and free eBooks can be found at www.primenewsletters.com.