Northbrook, IL – As we await the spring season to arrive, AllFreeCrochet teamed up with Bernat to host a baby hat charity drive for the local hospital, Northwest Community Hospital (NCH) in Arlington Heights. Each year over 3,000 babies are born at the hospital and every one of them goes home in a handmade knit or crochet hat to keep warm. From February 11 to March 11, crocheters and knitters from all over the country donated handmade baby hats to the office of Prime Publishing (home of AllFreeCrochet.com) in Northbrook, Illinois.
When the "tiny" announcement first took place, crocheters were very enthusiastic to help out and couldn't wait to get their hook in hand. Each person who donated a hat was automatically entered to win a prize package from Bernat. Included in the package was 13 skeins of yarn to produce two different baby blankets from Bernat. The winner of the prize yarn is Karen from Folsom, La.
We're unbelievably excited to share that AllFreeCrochet received an overwhelming number of baby hats that totaled more than 1,700 baby crochet hats! We know the editors of AllFreeCrochet as well as the staff at NCH were blown away and very appreciative of the generosity of each of these individuals who helped. Now every newborn baby can stay warm in their hats on their first adventure home.
It's amazing how we can come together as a crochet community. It was neat that some included handwritten notes of "Thanks for hosting this charity", "Prayers to all the babies who receive these hats", "Thank you for supporting the babies", and some even had personal memories of this hospital and how they were so excited to give back. This was an emotional and memorable charity drive that AllFreeCrochet, NCH and all those who donated will never forget.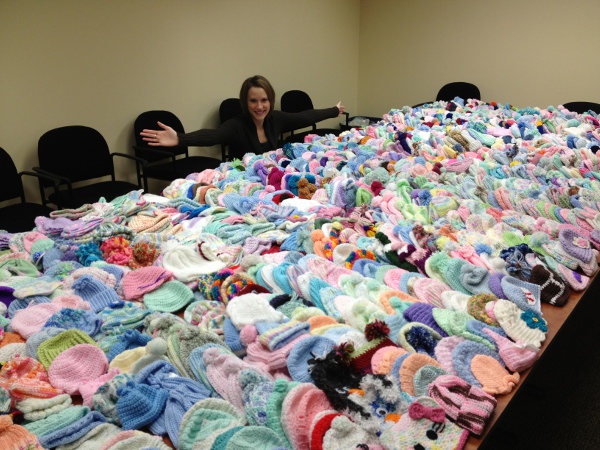 For more information on how you can crochet for a cause, please visit AllFreeCrochet for a complete list of charities. Read more about AllFreeCrochet's Baby Hat Charity at Stitch and Unwind.