Northbrook, IL — As more web sites adjust their site layouts to accommodate for the increasing number of consumers absorbing data via portable tablets and smart phones, businesses wonder how their ads perform in this changing format. A July 2014 performance study by advertising research firm, GfK, reveals that tablet ads get as much interaction as desktop and laptop ads.
The company's MRI Starch Advertising Research unit found that tablet versions of magazines recorded a 52% recall, the same amount recorded by print editions. The study surveyed the recall of nearly 29,000 ads in 805 tablet issues published in 2013.
This is good news for web publishers, such as Prime Publishing, as consumers spend more time browsing the Internet via tablets. In fact, overall tablet traffic increased by 67.7% for Prime Publishing sites from June 2013 to June 2014.
Not only did tablet ads perform well in recall, but consumers also reported having a positive experience with tablet ads. 62% of respondents awarded interactive tablet ads with a five or six star rating out of six, and, according to Adage.com's article, cited how "interactive features help them learn more about products and services."
Mickey Galin, exec VP-GfK Starch Advertising Research, said, "We have found that the tablet magazine readers not only are engaged with the editorial and advertising content, but that digital ads have the power to grab attention."
| | |
| --- | --- |
| | Northbrook, IL — The Fiber Hooligan podcast, sponsored by Prime Publishing, has flourished in recent weeks, landing the #5 spot on the top iTunes podcasts in the Hobbies Podcast category, the highest the podcast has ever ranked on iTunes. Fiber Hooligan airs a one-hour podcast every Monday at 11am CST, hosted by XRX, Inc. CEO Benjamin Levisay. XRX, Inc. is the home of Knitter's Magazine, XRX Books, and STITCHES Expos. Each podcast features the latest fiber-related news from the latest trends to interviews with industry experts to tutorials and much more. Guests have included Drew Emborsky from "The Crochet Dude;" Kristin Omdahl from Styled by Kristin; Nicole Snow, CEO of Darn Good Yarn; and Stuart Hochwert, President and CEO of Prime Publishing, LLC, among others. |
Levisay covers the entire gamut of the fiber industry, discussing topics regarding crochet, knitting, spinning, weaving, and more. Each episode is accompanied by a written biography about each yarn enthusiast or designer and is featured regularly throughout Prime Publishing's yarn-related newsletters. The podcast has experienced consistent growth with each successive show since moving over to AllFreeKnitting. iTunes has also featured it as "New & Noteworthy" on their hobbies podcast section.  
Reader feedback has also been overwhelmingly positive. "The hooligan is a great way to hear what is going on behind the scenes in the fiber and yarn industry," said iTunes user, Rmiskin. "[Levisay] knows EVERYONE. Each episode he invites a friend on to share some of their experiences. They are fun, informative, and really a great way to spend 60 minutes."
The podcasts aren't just for idle listening. Listeners have shown an active interest in the innovative products discussed in the episodes. Ravelry user SallyG commented on Fiber Hooligan's January episode with Romi from Designs by Romi that she "Loved this episode especially since I've enjoyed Romi's designs for years. Great to hear her story, what a fascinating woman! It cracks me up how this is a free podcast but it ends up costing me money. This week it was Romi's Craftsy class (which I thankfully got on sale) and the Knit Companion app. Do I dare listen next week?"

Listen to a sample episode of Fiber Hooligan's podcast below.


This is not Prime Publishing's first successful partnership with Fiber Hooligan and XRX, Inc. AllFreeKnitting.com has, in fact, put together three free eBbooks for the annual STITCHES shows for the East, Midwest, and West, which have generated around 240,000 downloads in total.

Northbrook, IL – For the very first time, RecipeLion has teamed up with 17 top food companies to create a free eCookbook that is filled with a variety of delicious recipes with a summer twist. In this eCookbook, The Best Dinner Recipes, Delicious Desserts & More: 20 Must-Have Recipes, you'll find salads, appetizers, main dishes, and desserts.
This eCookbook wouldn't be possible without the participation of these top food companies: Blendtec®, Goose Island® Beer Co., Gourmet Cooking Online, Hamilton Beach®, Kellogg's®, Klondike Brands®, La Preferida®, Mullen Foods, Naturipe® Farms, Neat®, PB Crave™, Pearls® Olives To Go!, Pigchaser™, Sheila G's Brownie Brittle™, Smart Grillin', Swiss Diamond®, and Zoye®. They provided exceptional recipes that you will use over and over again.
To celebrate the release of the new eCookbook, RecipeLion has teamed up with 17 sponsor companies to bring consumers daily giveaways throughout July, as well as a grand prize giveaway worth more than $2,000. On August 14th, one winner will take home the Ultimate Food Lover's Grand Prize, which includes a Hamilton Beach Slow Cooker, a Blendtec High-Speed Blender, a Swiss Diamond Nonstick Fry Pan, a TitanChef Knife Set, and more.
Find more information regarding the daily giveaways, grand prize giveaway, and free eCookbook in the following locations:
Stuart Hochwert, President and Founder of Prime Publishing, LLC, recently sat down with Niche Media to discuss strategies and tips for successfully generating revenue online. Prime Publishing has grown rapidly over the past five years, currently reaching over 5.7 million subscribers and generating over 15 million page views per week.
Hochwert navigates the ever-changing field of web publishing by focusing on core pillars of consumer engagement—e-mail newsletters, web sites, and community/social media—and allowing for flexibility in other aspects of the company.
"Online media is changing so quickly, we need to keep the model simple so we can be nimble," Hochwert stated. "We also focus on quality, knowing that quantity will come from the quality."
One high-quality program implemented for our advertisers at Prime Publishing is its innovative sponsorship program, most recently hosted by Prime Publishing's web site, FaveCrafts.com. To celebrate National Craft Month, FaveCrafts.com partnered with twenty different craft companies for daily giveaways, promoted throughout the blog, via social media, and in e-mail newsletters. At the conclusion of the promotion, the sponsors' craft projects were compiled into a free eBook, available on the FaveCrafts web site, Amazon, and Apple.
"Measurement was easy—how many advertisers did we sell, how many entries did we receive, how many page views were generated, and how many downloaded the free eBook. We shared all of this with every sponsor, typically on their day of sponsorship and an end-of-program recap," Hochwert added.
In addition to large scale projects, Prime Publishing generates revenue through a multi-platform strategy, including banner ads—specifically through Google AdSense—, pre-roll video, e-mail newsletter registration, and direct response offers. Hochwert foresees programmatic ad buying, using software to purchase digital advertising, as becoming a more prominent force for revenue generation.
"Programmatic ad buying has changed the face of online advertising. It allows smaller websites to be included with large advertising buys," Hochwert said. "While we have over 60 million page views per month, we are still 'too small' to get a 'seat at the table' with most ad agencies that represent large brands. However, the banner networks we work with represent us and have access to our site statistics and tens of thousands of other web sites. So, collectively we now 'have a seat at the table.'"
Measurement was easy – how many did we sell, how many entries did we receive, how many page views were generated and how many downloaded the free eBook. We shared all of this with every sponsor, typically on their day of sponsorship and an end of program recap. – See more at: http://blog.nichemediahq.com/ad-sales/ask-the-expert-web-revenue-strategies-for-media-companies/?utm_source=feedburner&utm_medium=email&utm_campaign=Feed%3A+nichemedia+%28Niche+Media%29#sthash.diaGASNA.dpuf
Prime Publishing has created a new way for crocheters to access their favorite patterns with the launch of its first app by the popular crafting web site, AllFreeCrochet.com. Released in early February 2014, the app has quickly gained steam in the Apple Store with over 5,000 downloads as of June 2014.
"Having an AllFreeCrochet app has been in the works for quite some time. We realized there was a real need and desire for the app when we learned that more and more of our readers were accessing our site from a mobile or tablet device," Jenny Benoit, editor of AllFreeCrochet, said. "There are currently more than 200 crochet apps available on the App Store, so we definitely wanted to join the club. We're excited to have a free mobile app available for our mobile readers and look forward to adding additional enhancements in the future."
The AllFreeCrochet app is currently available for free at the Apple Store. The app displays the newest content on the AllFreeCrochet site with a slide-out left navigation bar, so users can easily locate their favorite types of patterns. Users can share patterns with friends via text, email, or Twitter, and they can preview the patterns via an image-centric interface. Patterns also display useful, quick facts, such as skill level, hook size, and yarn weight.
Benoit credits other innovate crafting apps, such as Interweave, the Crochet Crowd, Craftsy, Red Heart, Lion Brand, Craftgawker, and Annie's Crochet as inspiration for their own digital platform. While the popular app review site, iOSnoops, already awarded the AllFreeCrochet app with a "good" rating, the AllFreeCrochet team doesn't plan to stop there.
"We hope to add a Search function to the app, as well as an option to subscribe to our upcoming premium content, ILikeCrochet.com. We'd also like to add a Video Tutorials section that coordinates with our YouTube channel," Benoit added.
The AllFreeCrochet app is currently available in the iTunes store for iPhones and iPads. There are plans to launch an Android version later this year.
Northbrook, IL —  In our technology-centric world, it seems that there is a digital outlet for every interest. Whether it be colorful graphic design blogs for the artistically inclined, heated political forums for those exercising their first amendment rights, or even an educational podcast for the curious minds of tomorrow, there is a source for every media consumer to plug in to.
Podcasts, in particular, have gotten increasingly popular within the past several years. Niche topics like hobbies and crafting have become more widely available for download and offer stimulating discussions about methods, techniques, and industry trends.
An industry leader in digital niche publishing, Prime Publishing has decided to expand its content production into the broadcasting realm by sponsoring the popular fiber arts podcast, Fiber Hooligan. Hosted by XRX, Inc. CEO Benjamin Levisay, Fiber Hooligan is a one hour weekly podcast featuring the latest in all things fiber. From knitting techniques to interviews with innovative designers and artisans, the show covers the hottest trends and industry news fiber enthusiasts really want to know. Levisay contributes a wealth of information to the show as well. XRX, Inc. is the home to Knitter's Magazine, the complete line of XRX Books, and the popular STITCHES Expos.
Prime Publishing is excited to join forces with one of the leading experts in the fiber industry. The first show airs on Monday, May 26th with special guest Drew Emborsky. Be sure to tune in every Monday morning at 11:00 AM, central time for the latest in all things knitting, crochet, spinning, and weaving!
# # #
For more information, please contact:
Julie DaMario, AllFreeKnitting Editor
AllFreeKnitting.com
About AllFreeKnitting.com:
AllFreeKnitting.com is dedicated to the best free knitting patterns, tutorials, tips and articles. Never buy another knitting pattern again! AllFreeKnitting finds and delivers the best free knitting patterns from all over the web, from easy to knit afghan patterns to complex knitting patterns. Variety makes things exciting and AllFreeKnitting has the right thing for your next knitting adventure.
About Prime Publishing LLC:
Prime Publishing LLC was established in 1995 as a traditional niche book publishing company. Today, they are an Internet Media Company that operates web site communities and e-mail newsletters in niche areas such as crafting and cooking. A full list of web properties, free newsletters and free eBooks can be found at www.primenewsletters.com.
Fort Lauderdale, FL — Fresh produce is something everyone looks forward to, especially in the spring and summer seasons. Nothing says "spring" like incorporating fresh produce into your daily meals. From outside entertaining to feel-good home meals, vegetable and corn recipes are enjoyed by all. Corn adds nutrition and color to every plate, which is why the Mr. Food Test Kitchen is excited to announce the release of Spring Veggie Fever: 25 Mouthwatering Spring Vegetable Recipes, its latest free eCookbook, sponsored by the Fresh Sunshine Sweet Corn Council.
According to the USDA whole-grains are an important part of any healthy meal plan and can help reduce the risk of heart-disease and assist with weight management. Whole-grain corn, as well as fresh vegetables, is nutrient-rich and recommended to be included in every healthy diet plan. Demand for corn recipes may rise as the population learns more about the benefits of whole-grain corn.
The Spring Veggie Fever eCookbook is filled with fresh recipes for spring and all year long. Some of the recipes included in this eCookbook collection are: Fresh Corn Dip (page 4), Spring Radish Salad (page 10), Egg Noodle Veggie Chowder (page 13), Spicy Lime Corn on the Cob (page 16), Veggie Skewers (page 24), Rainbow Pasta Primavera (page 28), and more! The fresh and tasty spring recipes included in this free eCookbook are sure to have you saying, "OOH IT'S SO GOOD!!"®Download the free Spring Veggie Fever eCookbook today!
http://www.mrfood.com/Vegetables/Spring-Veggie-Fever-Mouthwatering-Spring-Vegetable-Recipes-Free-eCookbook
###
Recipes and photos available upon request.
Media Contact
Michael Plontz
954-938-0400 ext.307
About the Mr. Food® Brand
Mr. Food is an established brand that keeps reinventing itself as it continues to grow. Today, the Mr. Food TV segment is nationally syndicated through CBS Worldwide Distribution on 120+ TV stations, with a daily audience of over 2 million viewers. The publishing division (with millions of books sold) continues to successfully create cookbooks to help the home cook get in and out of the kitchen with ease. The success of the brand is based on triple-tested recipes developed in the Mr. Food Test Kitchen while strictly adhering to their "Quick & Easy" philosophy. MrFood.com is a joint venture with Prime Publishing LLC and one of the nation's fastest growing recipe websites with millions of page views weekly and over 1 million monthly unique visitors. On top of that, the "Quick & Easy Everyday Cooking" eNewsletter engages almost 1 million subscribers on a daily basis.
Northbrook, IL — In an era when people are doing all they can to pinch pennies and save money, the do-it-yourself movement has seen a surge in popularity.  From knit scarves to revamped furniture, the art of crafting continues to motivate and challenge the creative mind.  To help draw attention to the popularity of crafting, the Craft and Hobby Association (CHA) declared March as National Craft Month in 1994…now, 20 years later, National Craft Month continues to remain a popular celebration for those in the crafting and hobby community.
To celebrate National Craft Month, Prime Publishing has teamed up with some of the biggest names in the crafting industry to bring consumers new tutorials and giveaways each day of March, as well as a free exclusive eBook and a grand prize giveaway worth more than $2,000.00.  Every day this month, craft lovers will be given a chance to win crafting supplies from Red Heart Yarn, Plaid Enterprises, Leisure Arts, Marvy Uchida, Sizzix, Simplicity, DOW STYROFOAM, MD Building Products, I Love to Create, Polyform Products, Craft Attitude, Ecstasy Crafts, American Quilter's Society, Krylon, Curious.com, Fiskars, Xyron, and Jimmy Beans Wool. Additionally, there will be a brand new, exclusive tutorial with each giveaway. All the projects promoted during National Craft Month will also be available in 18 Projects Every Crafter Wants, a free downloadable eBook on FaveCrafts.com.
In addition to the free eBook and the daily giveaways, one lucky winner will have a chance to win a grand prize featuring all the products given away during the daily giveaways in a grand prize contest. On March 31st, one winner will walk away with over $2,000.00 in crafting supplies.
More information regarding National Craft Month, the daily giveaways, the grand prize giveaway, and the free downloadable eBook can be found in the following locations:
# # #
For more information, please contact:
Melissa Conner, FaveCrafts Managing Editor
FaveCrafts.com
847-205-9375
About FaveCrafts.com:
FaveCrafts.com is an exciting resource for all things craft – from expert tips to project ideas for every style and skill level. We also publish Quick & Crafty, a free e-mail newsletter, publish crafting eBooks, and create crafting related product promotions, contests and giveaways.
About Prime Publishing LLC:
Prime Publishing LLC was established in 1995 as a traditional niche book publishing company. Today, they are an Internet Media Company that operates web site communities and e-mail newsletters in niche areas such as crafting and cooking. A full list of web properties, free newsletters and free eBooks can be found at www.primenewsletters.com.
Northbrook, IL – Prime Publishing, LLC was recently recognized by consulting firm, Mequoda, for its use of paid advertorials, providing valuable content to the company, the client, and the consumer. Prime Publishing's most intensive advertorial offerings include sponsored eBooks, which are then heavily promoted and distributed to the company's deep consumer base with 75,000+ downloads per eBook.
"An advertorial…is," explains Don Nicholas, CEO and lead consultant at Mequoda, "an ad that walks, acts and talks like an editorial. The content is typically provided by the sponsor themselves, although some creative publishers have begun to build native advertising departments that create the copy for the sponsor."
Prime Publishing offers its clients the opportunity to sponsor eBooks for both its craft and food properties. Clients can customize their level of participation to best suit their needs. Optional perks include providing company projects or recipes and linking back to the client's site, adding eBook banner ads, using company products throughout the eBook, adding projects or recipes on the applicable Prime Publishing site, offering an accompanying giveaway, social media exposure, and much more.
Prime Publishing produces 6–12 sponsored eBooks a year, and the clients have seen the benefits. All eBooks are promoted extensively through e-mail newsletters, full-page solo ad mailings, social media throughout Prime Publishing's craft and food sites, and distribution on Amazon and Apple. While eBooks are heavily promoted on the site and in e-mail newsletters for the first 30 days, the promotion of the brand and eBook never expire, earning millions of impressions through permanent Prime Publishing media and third party media placements.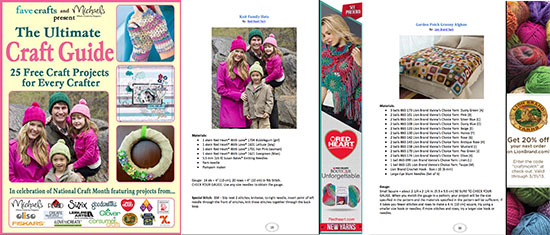 Prime Publishing works to develop both collaborative eBooks with multiple sponsors and eBooks for individual brands. To celebrate National Craft Month, FaveCrafts.com partnered with 18 companies, including lead partner, Michaels, to create a free collaborative eBook with a variety of projects that any craft enthusiast can enjoy, bringing together some of the biggest names in the industry.
Prime Publishing's AllFreeCrochet.com also teamed up with Lion Brand Yarns to produce a sponsored eBook, Lion Brand's New Fall Collection, featuring Lion Brand Yarn exclusively throughout the eBook. That particular eBook generated over 100,000 downloads on the web site and another 75,000 downloads on Apple and Amazon.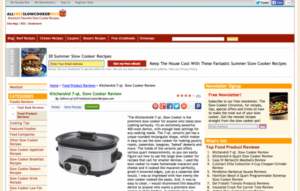 In addition to sponsored eBooks, Prime Publishing also offers tandem product reviews and giveaways. Large-scale giveaways, such as AllFreeSlowCookerRecipes.com's Kitchenaid Slow Cooker giveaway, provide value to the client and consumer alike. Not only do the consumers get the opportunity to win a high-value product that is within their realm of interest, but the client gets an extensive amount of promotion to this specific consumer base through product reviews, recipes and photos using the product, full-page solo ad mailings, and extensive promotion throughout newsletters and social media.
Readers always know that the promotion is sponsored since it is clearly identified. But a new craft project or a recipe, perhaps with a contest and/or eBook that clearly says it is an advertisement, simply resonates better with the consumer than just a standard ad. Advertorials lead to very high engagement, recall and product use. Whether through sponsored eBooks, product reviews, or giveaways, advertorials are a beneficial option for Prime Publishing, its clients, and its readership, providing valuable content from industry leaders.
Northbrook, IL – RecipeLion.com has been recognized by the Mequoda group, a consulting service for online publishing. RecipeLion's unique visitor traffic has multiplied sevenfold from when it was when it was first founded in 2009. Mequoda cited Prime Publishing's mastery of the publishing trifecta: selecting content, driving traffic and converting visitors.
Much of RecipeLion's success comes from the editors' weekly analyses where the top performing recipes, articles, and searches are reviewed and promoted to provide consumers with the most in-demand content. The company works with some of the best bloggers internationally to select, curate and feature the best recipes and food related content. The company also has an in-house test kitchen. Not only does RecipeLion draw in its audience through featuring the trendiest recipes, but it provides a number of other avenues to engage its audience, including free eCookbooks, active social media pages, and recipe collection pages.
Once the audience gets to the web site, RecipeLion has four different avenues to encourage visitors to sign up for their free eNewsletter, a technique that Ed Coburn, Chief Content Officer and Lead Consultant of Mequoda Group, says is "subscription website marketing at its best."
By interspersing its advertisements with top-quality content, RecipeLion has mastered the art of balancing quality content with intelligent marketing. The icing on the cake comes from RecipeLion's strong relationships with food bloggers, regularly featured on the web site, in eNewsletters, and on the blog. "These efforts combined provide a natural buzz in the foodie community and an occasional quality link back to our site," says Stuart Hochwert, president and CEO of Prime Publishing, LLC.
By engaging the audience on multiple platforms, RecipeLion has proven itself to be a mainstay in the online publishing industry.