NORTHBROOK, IL — Survive the record-breaking winter weather and make progress on your New Year's resolutions by starting a healthy habit sure to keep you warm.
According to the National Weather Service, the Chicago area saw its lowest-recorded high temperature on a New Year's Day when the city's low maximum temperature was set at 1 degree at O'Hare Airport. The previous record was five degrees above zero, which occurred in 1969. And the East Coast was hit with a "bomb cyclone," bringing blinding snow and hurricane-like winds as strong as 80 mph. More than 13 million people were under blizzard warnings, from Virginia all the way to Maine. Additional warnings were in place all over the country, including wind chill advisories and freeze warnings from South Texas to Canada and from Montana through New England, and even snow was reported in Florida.
With more cold weather expected this winter, forecasters are urging residents to take precautions, including wearing layers and a hat and gloves. For those of you that might want to make your own hat or gloves, check out the free pattern library at AllFreeCrochet.com and AllFreeKnitting.com. Whether you're looking to stay warm, learn a new skill, or improve your health, these free knit and crochet patterns can help! Recent studies have found people who participate in arts and crafts such as knitting and crochet "feel happier, calmer, and more energetic the next day." The healing benefits range from simply calming you down and easing your stress to potentially relieving depression and reducing the risk of Alzheimer's disease. Scientists now believe that "crafts, such as crocheting, can help stimulate that dopamine release to allow us to feel happier and better about ourselves."
The pattern libraries feature high resolution color photographs and step-by-step instructions; some include helpful video tutorials so you can follow along as you go.
AllFreeKnitting and AllFreeCrochet's free pattern library includes:
Beginner's Crochet Scarf – video tutorial!
100 Free Crochet Patterns for Winter: Hats, Scarves, Blankets, and More
Winter Wonderland: 17 Winter Patterns to Crochet – free eBook!
Winter Cable Knit Beanie – video tutorial!
13 Knit Hat Patterns for the Winter
Knit Super Scarves: 12 Free Patterns
PLUS: Health Benefits of Knitting and Health Benefits of Crochet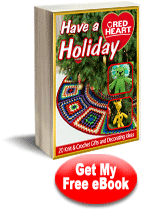 Northbrook, IL — Crafters know how rewarding it can be to complete a knit or crochet project. The satisfaction of creating a one-of-a-kind piece is what drives crafters to continue working and pushing ahead with a tough pattern Homemade projects are also a welcome alternative to expensive store-bought items. During tough economic times, knit and crochet projects can capture the spirit of the holidays without breaking the bank. Red Heart Yarns and FaveCrafts have teamed up for a brand new eBook, Have a Red Heart Holiday: 20 Knit & Crochet Gifts and Decorating Ideas that features a variety of free and festive patterns for anyone who loves to knit and crochet
More people than ever are turning to knit and crochet as their go-to craft. According to a 2011 study conducted by research conducted by Research Incorporated of Atlanta for the Craft Yarn Council, "seventy percent of knitters and crocheters of all ages say they are planning to make more projects in 2012 and 28% said they are going to make the same number." Crafters are hungry for new patterns and the latest free eBook from FaveCrafts and Red Heart Yarns has plenty of satisfying patterns for the holiday season.
This easy-to-follow craft guide is broken down into two sections – crochet and knitting patterns. Crochet gift ideas include an adorable Big Bloom Hat (p. 21) and a Snowman Mug Hug (p. 19). In addition to gift ideas there are also decor projects such as the Granny Tree Skirt (p. 8). Notable knitting patterns include the Cabled e-Reader Cozy (p. 41) and the Tracy the Tiger Ornament (p. 39). Both patterns are non-traditional but so much fun to make. Each pattern featured in Have a Red Heart Holiday: 20 Knit & Crochet Gifts and Decorating Ideas includes at least one color photo, step-by-step instructions, a materials list and a guide to common abbreviations.
Download the Have a Red Heart Holiday: 20 Knit & Crochet Gifts and Decorating Ideas eBook for FREE at http://www.favecrafts.com/Christmas-Crafts/Have-a-Red-Heart-Holiday-20-Knit-and-Crochet-Gifts-and-Decorating-Ideas-eBook-from-Red-Heart-Yarns/. Website visitors can also find the eBook under the "Christmas Crafts" category on the FaveCrafts homepage.
###
Contact:
Julia Litz, Editor
FaveCrafts.com
Prime Publishing LLC
jlitz@primecp.com
About FaveCrafts.com:
FaveCrafts.com is an exciting resource for all things craft – from expert tips to project ideas for every style and skill level. We also publish Quick & Crafty, a free e-mail newsletter, publish crafting eBooks, and create crafting related product promotions, contests and giveaways.
About Prime Publishing LLC:
Prime Publishing LLC was established in 1995 as a traditional niche book publishing company. Today, they are an Internet Media Company that operates web site communities and e-mail newsletters in niche areas such as crafting and cooking. A full list of web properties, free newsletters and free eBooks can be found at www.primenewsletters.com.