February 28 , 2014
Northbrook, IL – Prime Publishing, LLC was recently recognized by consulting firm, Mequoda, for its use of paid advertorials, providing valuable content to the company, the client, and the consumer. Prime Publishing's most intensive advertorial offerings include sponsored eBooks, which are then heavily promoted and distributed to the company's deep consumer base with 75,000+ downloads per eBook.
"An advertorial…is," explains Don Nicholas, CEO and lead consultant at Mequoda, "an ad that walks, acts and talks like an editorial. The content is typically provided by the sponsor themselves, although some creative publishers have begun to build native advertising departments that create the copy for the sponsor."
Prime Publishing offers its clients the opportunity to sponsor eBooks for both its craft and food properties. Clients can customize their level of participation to best suit their needs. Optional perks include providing company projects or recipes and linking back to the client's site, adding eBook banner ads, using company products throughout the eBook, adding projects or recipes on the applicable Prime Publishing site, offering an accompanying giveaway, social media exposure, and much more.
Prime Publishing produces 6–12 sponsored eBooks a year, and the clients have seen the benefits. All eBooks are promoted extensively through e-mail newsletters, full-page solo ad mailings, social media throughout Prime Publishing's craft and food sites, and distribution on Amazon and Apple. While eBooks are heavily promoted on the site and in e-mail newsletters for the first 30 days, the promotion of the brand and eBook never expire, earning millions of impressions through permanent Prime Publishing media and third party media placements.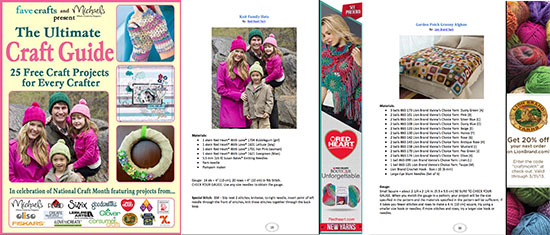 Prime Publishing works to develop both collaborative eBooks with multiple sponsors and eBooks for individual brands. To celebrate National Craft Month, FaveCrafts.com partnered with 18 companies, including lead partner, Michaels, to create a free collaborative eBook with a variety of projects that any craft enthusiast can enjoy, bringing together some of the biggest names in the industry.
Prime Publishing's AllFreeCrochet.com also teamed up with Lion Brand Yarns to produce a sponsored eBook, Lion Brand's New Fall Collection, featuring Lion Brand Yarn exclusively throughout the eBook. That particular eBook generated over 100,000 downloads on the web site and another 75,000 downloads on Apple and Amazon.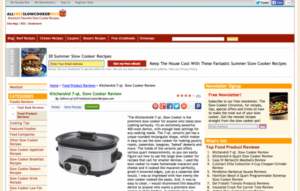 In addition to sponsored eBooks, Prime Publishing also offers tandem product reviews and giveaways. Large-scale giveaways, such as AllFreeSlowCookerRecipes.com's Kitchenaid Slow Cooker giveaway, provide value to the client and consumer alike. Not only do the consumers get the opportunity to win a high-value product that is within their realm of interest, but the client gets an extensive amount of promotion to this specific consumer base through product reviews, recipes and photos using the product, full-page solo ad mailings, and extensive promotion throughout newsletters and social media.
Readers always know that the promotion is sponsored since it is clearly identified. But a new craft project or a recipe, perhaps with a contest and/or eBook that clearly says it is an advertisement, simply resonates better with the consumer than just a standard ad. Advertorials lead to very high engagement, recall and product use. Whether through sponsored eBooks, product reviews, or giveaways, advertorials are a beneficial option for Prime Publishing, its clients, and its readership, providing valuable content from industry leaders.